1 October 2019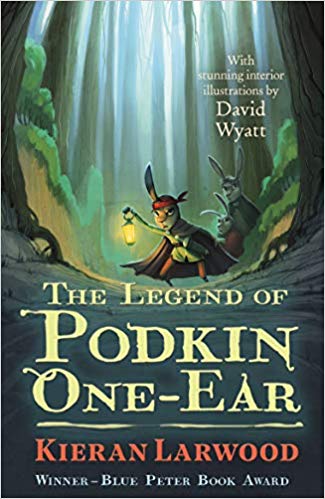 1) TheMiraculous Journey of Edward Tulane by Kate DiCamillo illustrated by Bagram Ibatoulline
A timeless tale by the incomparable Kate DiCamillo, complete with stunning full-color plates by Bagram Ibatoulline, honors the enduring power of love.

"Someone will come for you, but first you must open your heart. . . ."

Once, in a house on Egypt Street, there lived a china rabbit named Edward Tulane. The rabbit was very pleased with himself, and for good reason: he was owned by a girl named Abilene, who treated him with the utmost care and adored him completely.

And then, one day, he was lost.

Kate DiCamillo takes us on an extraordinary journey, from the depths of the ocean to the net of a fisherman, from the top of a garbage heap to the fireside of a hoboes' camp, from the bedside of an ailing child to the bustling streets of Memphis. And along the way, we are shown a true miracle — that even a heart of the most breakable kind can learn to love, to lose, and to love again
Wonderful and witty with an amazing cast of characters. I thought it would be impossible to make me love Edward Tulane, the pampered porcelain rabbit, but as Edward begins to understand love then we begin to love Edward. Warning the book will make you angry and probably it will make you cry. ( A sign of great writing if ever there were one.) Kate DiCamillo is possibly one of the best writers writing at the moment, those that know her books eagerly anticipate the next. With that in mind here are some others that would work brilliantly in year 4.
With that in mind here are some other Kate DiCamillo books that would work brilliantly in year 4.
2) The Legend of Podkin One-Ear by K.M.Larwood illustrated by David Wyatt
A thick white blanket covers the wide slopes of the band of hills some call the Razorback Downs…

Podkin One-Ear is a legend: a fearsome warrior rabbit whose reputation for cunning and triumph in battle has travelled the ages. But how did he become such a mighty fighter? The answer may surprise you… When a travelling bard arrives at Thornwood Warren on Midwinter night, he is warmly welcomed. In return for food and lodging, he settles down to tell of how Podkin One-Ear – and soon the rabbits are enthralled to hear the story of how one lost little rabbit overcame the cruellest enemy imaginable, and became the greatest warrior their land has ever know.
From the moment I started reading this I was in transported, so much so it was finished in one sitting; exciting, frightening, magical and intriguing. The world of the five realms is brilliantly realised full of lore and rules that are dripped slowly into the story without overwhelming. It's a great fantasy story and a wonderful way to introduce children to the genre. The use of a narrator's (who knows way too much detail) voice makes it the perfect read aloud, with wonderful cliffhanger moments to leave the children on the edge of their seat.
It does however have its dark moments and I would recommend caution around some of your more sensitive children.
3) Alice's Adventures In Wonderland by Lewis Carroll
Alice's Adventures in Wonderland (commonly shortened to Alice in Wonderland) is an 1865 novel written by English mathematician Charles Lutwidge Dodgson under the pseudonym Lewis Carroll. It tells of a girl named Alice falling through a rabbit hole into a fantasy world populated by peculiar, anthropomorphic creatures. The tale plays with logic, giving the story lasting popularity with adults as well as with children. It is considered to be one of the best examples of the literary nonsense genre. Its narrative course and structure, characters and imagery have been enormously influential in both popular culture and literature, especially in the fantasy genre
The book is rightfully a classic, whilst at points plot wise it doesn't always hang together, the episodic nature of the story, it's delight in the absurd and the playfulness of the language make it a wonderful book to use with year 4. Full of nonsense and logic in equal measure it is a treasure that warrants repeated revisits. It is brilliant and joyful and you really can't ask much more from children's literature.
I'd also recommend Return to Wonderland has some fantastic backstories for characters from the book written by a plethora of wonderful current authors such a Piers Torday and Patrice Lawrence.
One Day In Wonderlandby Kathleen Krull and Julia Sarda is a rather beautiful picture-book biography celebrating Lewis Carroll
4) The Midnight Hour by Benjamin Read and Laura Trinder
When Big Ben sounds the stroke of midnight, Emily's parents vanish.

As an adventurous eleven year old, Emily packs her sandwiches and her hedgehog, Hoggin, and heads into the Midnight Hour. A Victorian London frozen in time, the Midnight Hour is a magical place of sanctuary and of peril dreamt up by children – and inhabited by monsters of legend, creatures of the imagination, and a Postal Service determined to save the day (and night!). To save her mum and dad, Emily must be brave enough to embrace her own inner magic …

Neil Gaiman's Neverwhere meets The Phantom Tollbooth in this classic-feeling adventure, full of astonishing world-building.
This is just a perfect year 4 book: wonderful characters, beautiful settings, magic.
The Midnight Hour is children's fantasy fiction at its best with a fiesty heroine in Emily and a brilliant supporting cast . The city of the Night Folk is vividly described creating a truly believable world with some of our most famous landmarks taking a central role in the story. Wittily told and cleverly delivered, with just the right amount of scare. The Midnight Hour is top-notch.
5) Charlotte's Web by E.B.White pictures by Garth Williams
This beloved book by E. B. White, author of Stuart Little and The Trumpet of the Swan, is a classic of children's literature that is "just about perfect." This high-quality paperback features vibrant illustrations colorized by Rosemary Wells!

Some Pig. Humble. Radiant. These are the words in Charlotte's Web, high up in Zuckerman's barn. Charlotte's spiderweb tells of her feelings for a little pig named Wilbur, who simply wants a friend. They also express the love of a girl named Fern, who saved Wilbur's life when he was born the runt of his litter.

E. B. White's Newbery Honor Book is a tender novel of friendship, love, life, and death that will continue to be enjoyed by generations to come. This edition contains newly color illustrations by Garth Williams, the acclaimed illustrator of E. B. White's Stuart Little and Laura Ingalls Wilder's Little House series, among many other books.
I firmly believe that no child should leave primary school having not read or had Charlotte's Web read to them.
It is rightfully one of the all-time great classics of children's literature, this gentle story with its kindly wisdom about friendship and love has survived and prospered and still has relevant messages for our children now. It will inspire readers to think about how we should make and keep friends, and how we should treat each other what more can you ask from a book. (Warning…it may make you cry)
6) Hatchet by Gary Paulsen
Brian is on his way to Canada to visit his estranged father when the pilot of his small prop plane suffers a heart attack. Brian is forced to crash-land the plane in a lake–and finds himself stranded in the remote Canadian wilderness with only his clothing and the hatchet his mother gave him as a present before his departure.

Brian had been distraught over his parents' impending divorce and the secret he carries about his mother, but now he is truly desolate and alone. Exhausted, terrified, and hungry, Brian struggles to find food and make a shelter for himself. He has no special knowledge of the woods, and he must find a new kind of awareness and patience as he meets each day's challenges. Is the water safe to drink? Are the berries he finds poisonous?

Slowly, Brian learns to turn adversity to his advantage–an invading porcupine unexpectedly shows him how to make fire, a devastating tornado shows him how to retrieve supplies from the submerged airplane. Most of all, Brian leaves behind the self-pity he has felt about his predicament as he summons the courage to stay alive.

A story of survival and of transformation, this riveting book has sparked many a reader's interest in venturing into the wild.
A book about survival against the odds. You can't help but root for Brian as he faces numerous challenges. Short, pacy and full of peril. It is abook about change and transformation. It is also a book about hope and about not ignoring the world around you. Why would you not use the book to instigate getting outside, getting hands-on and doing some 'Forest schooling.'
7) Max and the Millions by Ross Montgomery
Max is used to spending time alone – it's difficult to make friends in a big, chaotic school when you're deaf. He prefers to give his attention to the little things in life… like making awesome, detailed replica models.

Then Mr Darrow, the school caretaker and fellow modeller, goes missing. Max must follow his parting instruction: 'Go to my room. You'll know what to do.'

There on the floor he finds a pile of sand … and in the sand is Mr Darrow's latest creation… a tiny boy, no bigger than a raisin, Luke, Prince of the Blues. And behind the tiny boy… millions of others – a thriving, bustling, sprawling civilization
This is a marvellously funny and original novel. The book carries a keen satirical edge and uses its wonderful premise to ask some wide-ranging questions about politics and society. Max is a well-dveloped lead character and his feelings of social isolation due to his deafness are honest, and his growing friendship with Sasha is both real and heartwarming. The book asks big questions and requires us to think about the actions we take. Not bad for a kid's book.
This sentence sums it up perfectly 'The world is filled with miracles which no one sees, ' and as the author himself says'Take care of the small things – they make up,the entire universe.'
8) Firework Makers Daughter by Philip Pullman
Lila dreams to become a firework-maker, just like her father. In order to become a true firework-maker, she sets off alone on a perilous journey to reach the terrifying Fire-Fiend. She travels through jungles alive with crocodiles, snakes, monkeys and pirates, and climbs up the scolding volcano. On finding the Fire-Fiend, she realises more is at stake than she ever imagined. Will Lila survive? Lila's is the kind of magical adventure that all children dream of and the gripping story of the fleet-footed heroine will livelong in the memory of anyone who enters her world.
Whilst reminiscent of traditional folk-tales, Pullman 's Lila is a truly modern heroine. It is one of those stories that lives in the memories. It's one of those books that children want to read for themselves after a teacher has read it to them. It is a story that sizzles and pops with excitement, humour, mystery, and suspense. The courage and friendship of Lila, Chula, and Hamlet are both enjoyable and uplifting, and the solution to Lila's quest may provoke some serious thought and discussion. What more can you ask from a childrens book?
9) Love That Dog by Sharon Creech
"I guess it does
look like a poem
when you see it
typed up
like that."

Jack hates poetry. Only girls write it and every time he tries to, his brain feels empty. But his teacher, Ms. Stretchberry, won't stop giving her class poetry assignments — and Jack can't avoid them. But then something amazing happens. The more he writes, the more he learns he does have something to say.
A book about writing, stereotypes, poetry and about finding your voice.
In and of itself, Love That Dog works to take away the barriers poetry has as a subject and, through Jack's journey, shows off why the poetry is still important. Beyond that, in asking what makes a poem, why poetry needs to be explored, and without handholding readers through the answers — Love That Dog makes a case for the importance of poetry to turn emotions into pieces of art that anyone can make and anyone can understand. The book delivers an affectionate and powerful demonstration of why poetry matters.
It also works very well as a book to read aloud. (warning.. I cried with this one as well)
I would also thoroughly recommend Hate that Cat (Thanks Charlotte Hacking for my copy of this.)
10) The Imaginary by A.F.Harold illustrated by Emily Gravett
Rudger is Amanda's best friend. He doesn't exist, but nobody's perfect.

Only Amanda can see her imaginary friend – until the sinister Mr Bunting arrives at Amanda's door. Mr Bunting hunts imaginaries. Rumour says that he eats them. And he's sniffed out Rudger. Soon Rudger is alone, and running for his imaginary life. But can a boy who isn't there survive without a friend to dream him up?

A brilliantly funny, scary and moving read from the unique imagination of A.F. Harrold, this beautiful book is astoundingly illustrated with integrated art and colour spreads by the award-winning Emily Gravett.
A.F.Harold is well on his way to becoming one of my favourite authors. In the Imaginary he creates richly visualised story which explores imaginary friends and the very special role they play in children's lives. Emily Gravett's perfect illustrations capture the hazy world of the imaginaries brilliantly. The book is in turns, profound, scary, and wonderfully funny. A perfect read aloud but with potential to be so much more. Just fantastic.
Posted by Website User