1 October 2019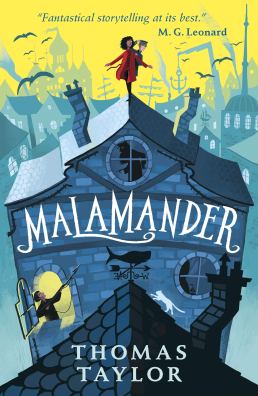 1) Nowhere Emporium by Ross MacKenzie
When the mysterious Nowhere Emporium arrives in Glasgow, orphan Daniel Holmes stumbles upon it quite by accident. Before long, the 'shop from nowhere' — and its owner, Mr Silver — draw Daniel into a breathtaking world of magic and enchantment. Recruited as Mr Silver's apprentice, Daniel learns the secrets of the Emporium's vast labyrinth of passageways and rooms — rooms that contain wonders beyond anything Daniel has ever imagined. But when Mr Silver disappears, and a shadow from the past threatens everything, the Emporium and all its wonders begin to crumble. Can Daniel save his home, and his new friends, before the Nowhere Emporium is destroyed forever?
Ross Mackenzie creates a wild fantasy world that can only be contained by the limits of your imagination. Wonderful rich language rolls itself around a rip-roaring adventure story that celebrates the power of the written word. A perfect read aloud for year 5.
BONUS… Equally I would share Shadowsmith with year 5 it is both deliciously scary with possibly my favourite book character ever in the wonderful Amelia Pigeon
2) Pax by Sara PennyPacker illustrated by Jon Klassen
Pax was only a kit when his family was killed, and "his boy" Peter rescued him from abandonment and certain death. Now the war front approaches, and when Peter's father enlists, Peter has to move in with his grandpa. Far worse than being forced to leave home is the fact that Pax can't go. Peter listens to his stern father—as he usually does—and throws Pax's favorite toy soldier into the woods. When the fox runs to retrieve it, Peter and his dad get back in the car and leave him there—alone. But before Peter makes it through even one night under his grandfather's roof, regret and duty spur him to action; he packs for a trek to get his best friend back and sneaks into the night. This is the story of Peter, Pax, and their independent struggles to return to one another against all odds. Told from the alternating viewpoints of Peter and Pax.
Pax is an emotional, heartbreakiing tale that doesn't shy awaay from the horrors of war, but does it with a pure emotional heart. The language is rich and complex but the key to the story is the range of relationships. A beautifully told tale that is ultimately about hope and love.
Book blog No2 Pax by Sarah Pennypacker
3) Running on Empty by SE Durrant
AJ's grandfather has always been the one to keep his unusual family together, so when he dies things start to unravel at the edges.

AJ is worried about his parents but they don't really seem to notice. In order to deal with his grief and to keep his anxiety at bay, AJ does what he and his grandfather did best: running. Round and round the Olympic Park, aiming for the nationals, running to escape, AJ only seems to be heading ever closer to disaster. Running On Empty is a beautiful book about false starts and emotional journeys, with hope as the ultimate finishing line.
A bit of a missed book I think. It's gentle narrrative is not heartstopping but it is very real. S E Durrant writes convincingly and movingly about ordinary young people in extraordinary situations. It's abook about love, loss and coping with the challenges lifes throws us. Without a trace of sentimentality, the book ends on a note of hope and happiness that is both believable and uplifting. A wonderful emotional read.
4) The Phantom Tollbooth by Norman Juster illustration by Jules Fieffer
Hailed as "a classic. . . . humorous, full of warmth and real invention" (The New Yorker), this beloved story -first published more than fifty years ago- introduces readers to Milo and his adventures in the Lands Beyond.

For Milo, everything's a bore. When a tollbooth mysteriously appears in his room, he drives through only because he's got nothing better to do. But on the other side, things seem different. Milo visits the Island of Conclusions (you get there by jumping), learns about time from a ticking watchdog named Tock, and even embarks on a quest to rescue Rhyme and Reason! Somewhere along the way, Milo realizes something astonishing. Life is far from dull. In fact, it's exciting beyond his wildest dreams. . . .
The Phantom Tollbooth is a great book that I could happily read all over again! It starts with a boy called Milo that is bored stiff about everything in life, but one day an exciting package arrives at his door step containing a life-sized toy car and an also life-sized tollbooth. Milo, having nothing better to do gets in the toy car and drives up to the empty tollbooth. After that moment disaster strikes as he travels into a mysterious world.
The thing that the book left me with is that the best adventures happen when we least expect them to.
5) The Longest Night of Charlie Noon by Christopher Edge
"If you go into the woods, Old Crony will get you."

Secrets, spies or maybe even a monster… What lies in the heart of the wood? Charlie, Dizzy and Johnny are determined to discover the truth, but when night falls without warning they find themselves trapped in a nightmare. Lost in the woods, strange dangers and impossible puzzles lurk in the shadows. As time plays tricks, can Charlie solve this mystery and find a way out of the woods? But what if this night never ends…?

A timeless novel for anyone who's ever felt lost. From the award-winning author of The Many Worlds of Albie Bright and The Infinite Lives of Maisie Day.
I could have picked any of these four Christopher Edge books. They are all fantastic…smart narratives, fantastic twists, sciency stuff and at the core great characters. Edge truly is a writer of extraordinary inventiveness (a rare quality)
Charlie Noon does that rare thing, it takes you on a cracking adventure with surprising twists and turns but it also leaves you pondering and thinking. Now that is good writing
6) Emil and the Detectives by Erich Kastner
If Mrs Tischbein had known the amazing adventures her son Emil would have in Berlin, she'd never have let him go.

Unfortunately, when his seven pounds goes missing on the train, Emil is determined to get it back – and when he teams up with the detectives he meets in Berlin, it's just the start of a marvellous money-retrieving adventure . . .

A classic and influential story
Just a classic, a detective story told at a cracking pace, this features one of the first fictional child detectives. . Emil is charming and clever, the ideal hero of this terrific adventure. It plays to every child fantasy of being the hero and is just as delightful now as when it was first written.
7) Malamander by Thomas Taylor
Malamander is told from the perspective of Herbert Lemon, the Lost-and-Founder of the Grand Nautilus Hotel, who tries to unite objects that have been left at the hotel with their owners. Other characters in the story include Violet Palma, who is lost and needs to be found, and the eponymous Malamander, who controls people's dreams.
Just a perfect children's book, quirky, funny, and scary in equal measure. It's an utterly breathless adventure, with moments of high peril and a dash of derrin-do. the book is populated by amazing characters including it's brilliant setting 'Eerie-by-the-Sea' (If you live in a seaside town, they completely are all those things).
This book is just unadulterated fun and all the better for it. A Joy!
7) The Machine Gunners by Robert Westall
With Nazi planes raining bombs on England night after night, every boy in Garmouth has a collection of shrapnel and other war souvenirs. But nothing comes close to the working machine gun Chas McGill pulls out of a downed bomber. While the police search frantically for the missing gun, Chas and his friends build a secret fortress to fight the Germans themselves
I think being in the North-East may have something to do with this choice. Westall's writing is superb throughout. It is my absolute favourite book set in World war 2. It captures the fear, single-mindedness and hope that only children have. The children are brilliantly funny and real. Westall masterfully ratchets up the tension in this tale of children that just want to make the world around them OK. What a book!
Bonus… Blitzcat by Robert Westall
8) Beetle Boy by MG Leonard
The glorious start to a middle-grade trilogy about a brilliant boy, his loyal friends, and some amazingly intelligent beetles that brings together adventure, humor, and real science!

Darkus Cuttle's dad mysteriously goes missing from his job as Director of Science at the Natural History Museum. Vanished without a trace! From a locked room! So Darkus moves in with his eccentric Uncle Max and next door to Humphrey and Pickering, two lunatic cousins with an enormous beetle infestation. Darkus soon discovers that the beetles are anything but ordinary. They're an amazing, intelligent super species and they're in danger of being exterminated. It's up to Darkus and his friends to save the beetles. But they're up against an even more terrifying villain–the mad scientist of fashion, haute couture villainess Lucretia Cutter. Lucretia has an alarming interest in insects and dastardly plans for the bugs. She won't let anyone or anything stop her, including Darkus's dad, who she has locked up in her dungeons! The beetles and kids join forces to rescue Mr. Cuttle and thwart Lucretia.
Does all those things that great children's books, without ever playing to lowest common denominators or patronising. A cracking central core of characters, a truly villianous villian and the an ability to make beetles completely lovable make this a top drawer read aloud.
9) Clockwork by Philip Pullman
Fritz, the writer, spins a spine-tingling tale to cheer up Karl, the apprentice clockmaker. But rather than helping matters, the story begins to come true….

The stories of Karl, the apprentice; Dr. Kalmenius, his nefarious "savior"; Gretl, the brave daughter of the town innkeeper; and a young prince whose clockwork heart is in danger of winding down come together in surprising and magical ways in a story that has the relentless urgency of a ticking clock.
Not a wasted word. Just about perfect in my opinion. I have never known a book hold a group of of children in its thrall like Clockwork. This book is magical and slightly shocking. Like a good old-fashioned fairy tale it doesn't pull its punches. Characters who act selfishly or who are lazy are punished. Lessons come across on the merits of having a kind heart and being hard-working.
10) The Invention of Hugo Cabret by Brian Selznick
Orphan, clock keeper, and thief, Hugo lives in the walls of a busy Paris train station, where his survival depends on secrets and anonymity. But when his world suddenly interlocks with an eccentric, bookish girl and a bitter old man who runs a toy booth in the station, Hugo's undercover life, and his most precious secret, are put in jeopardy. A cryptic drawing, a treasured notebook, a stolen key, a mechanical man, and a hidden message from Hugo's dead father form the backbone of this intricate, tender, and spellbinding mystery.
Part picture-book/graphic novel, part mystery, part love story to early cinema. Hugo is cinematic in it's scale and story telling. Beautifully concieved its an absolute treasure of a book.
Bonus…Roller Girl
A heartwarming graphic novel about friendship and surviving junior high through the power of roller derby.

Twelve-year-old Astrid has always done everything with her best friend Nicole. So when Astrid signs up for roller derby camp, she assumes Nicole will too. But Nicole signs up for dance camp with a new friend instead, and so begins the toughest summer of Astrid's life. There are bumps and bruises as Astrid learns who she is without Nicole…and what it takes to be a strong, tough roller girl.
Posted by Website User